Konami Profit Margins Soar After All Executives Fired, Replaced By Round Table Of Drinking Birds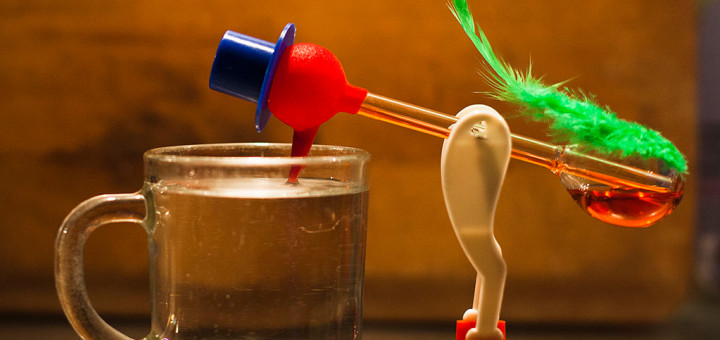 Konami have reported an astounding 9,000% surge in annual gross after the formerly ailing company replaced their executive board with drinking birds.
The unprecedented and controversial reshuffle came after founder Kagemasa Kozuki finished his light workout of finger dumbbells at one of the company's health and fitness clubs, passing by the window displays of Minato on his way home.
"I saw the bird," Kozuki told reporters outside Konami's Tokyo Midtown headquarters, dipping his nose into a stone cup of pure spring water to raucous applause. "The bird was the word, ah-mama-ooh-meow-meow."
The drinking board's first order of business was to start making games again, many of them from some of Konami's hugely lucrative and immensely popular franchises that fans have been literally begging to throw huge wads of cash at for like, one million years.
The question of new IPs led reporters straight to director and budding game-maker Guillermo del Toro's front porch.
"I think it was the right decision," del Toro told Drinking Bird Monthly. "Drinking birds are hella badass as all fuck."
When quizzed about whether the drinking board had contacted him over any plans to reinstate development of Silent Hill PT, del Toro's joint creative venture with recently departed luminary Hideo Kojima, del Toro was optimistic for the future.
"I fucking hope so, that'd be the fucking tits. Spring break!"
Kojima has yet to comment publicly on this surprising development, instead tweeting a picture of a grilled cheese sandwich that may or may not also be a scathing indictment of world politics, and society and shit.