Report: Local Man Obviously Going To Buy Switch Lite, Should Stop Pretending Otherwise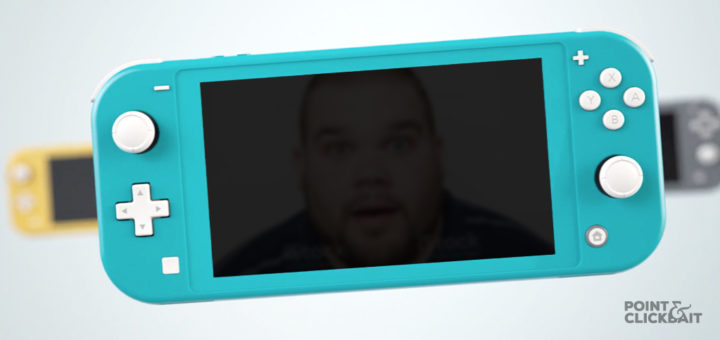 The Switch Lite, a new version of Nintendo's flagship console that can only be played in portable mode, is designed as an entry-level model for younger players and frequent travellers.
It's not, local man Kurt Duggins assures everyone in earshot, a system that he needs in his life at all. But insiders close to Duggins report that his purchase of the system is inevitable, and that he should "accept that now" to avoid embarrassment later.
Duggins, who already owns three Switches and dresses as Waluigi every Halloween, says otherwise.
"I just don't see how the Switch Lite could even fit into my life," he told Point & Clickbait. "I only really play my Switch docked, or in bed, which is why I already have one attached to my TV and another on my bedside table. The third Switch is a spare, for obvious and normal reasons."
Duggins has, to date, made 45 separate tweets about the Switch Lite, including "Switch Lite? No thank you", "I would buy the Switch Lite in a heartbeat if I had a child", and "Another dream last night about the Switch Lite. Dreaming about it every night now. Which is strange because I still don't need one."
Duggins' closest friends assure us that this façade will crack any day now. "There is nothing more certain in life", best friend Snack Pappino told us. "Except, perhaps, for the existence of the 'Sour Man', a vampiric entity that haunts the night, and the conspiracy that certain bodies within the government prevent us from ever knowing about the experiment that created him."
Duggins, who is famous in certain circles for his "extraordinarily inaccurate" fan translation of Mother 3, paused midway through our conversation to call up his local game store and check on his preorders, "just to prove that he has the willpower" to not order a Switch Lite. He did, however, ask them to put a Switch Fortnite bundle aside for him).
A visibly sweaty Duggins hung up and wringed his hands in quiet desperation as we continued our interview. "Look. It's fine. I don't need to buy every new console", he said, tears welling in his eyes. "Some day they'll release a Switch Pro, and I will buy it in every colour. Until then I can wait and get by with just four Switches."
When asked what his favourite Switch game was, a visibly distressed Duggins told us that he "mostly just played Picross" on it. "Sometimes I use the light of the screen when I hear an odd, dry slurping noise emanating from the corner of my bedroom in the night", he told us, "but I've never caught whatever's leaving lemon skins in the corner".
Duggins, who unrelatedly owns every previous Nintendo system released, including obscurities like the China-only iQue and the Panasonic Q, remains steadfast. "The fact that I own so many systems already makes me need the Switch Lite LESS", he assured us, before excusing himself to "ring the bank and request a credit extension".
NOTE: The original version of this article has been edited, at the request of unspecified government forces, to limit references to the 'Sour Man' that we are assured does not exist.