Uncharted 4's Rejected Script Shows What Could Have Been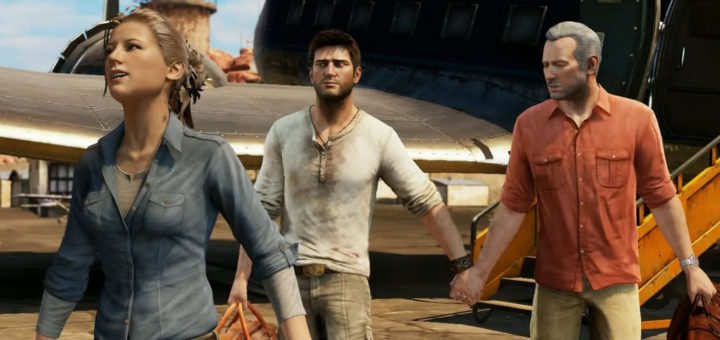 Wow! Can you believe this extremely authentic rejected script for Uncharted 4 that we just found in a bin? Take a look!
***
DRAKE is sitting in his LOUNGE ROOM watching the reality show SHIT FOSSICKERS.  The DOORBELL rings. We see that SULLY is on the other side.
DRAKE:  Yeah, yeah, I'm coming!
DRAKE stands up to walk to the door. Suddenly, without warning, a massive EARTHQUAKE tears his house in two. He PLUNGES into the ABYSS, managing to CATCH a ROPE that appears for SOME REASON.
DRAKE: Woah! Woah! I was watching my show!
SULLY: Nate, quit messin' around in there and open the door!
DRAKE begins to climb up the ROPE. Just as he nears the TOP, the rope SNAPS, causing him to plunge even further down. He catches himself on a HANDY ROCK FORMATION.
DRAKE: Aaaargh! Woah! That was a close one!
SULLY: Nate! I'm old! I'm an old man, Nate! I'm not young!
DRAKE: Thanks for nothin' Sully! Just hang on, will ya?
DRAKE finally manages to make it to the top of the ROPE for the SECOND TIME. As he opens the front door his house CRUMBLES INTO RUBBLE and PLUNGES INTO THE ABYSS. Then it EXPLODES for GOOD MEASURE.
DRAKE: Sully? Sully? Where are you, old man?
In the DISTANCE, DRAKE sees SULLY being KIDNAPPED by FACELESS GOONS.
DRAKE: Sully! Damn it! Damn it Sully, why are you so old?
***
ELENA and DRAKE meet in a downtown cafe of a NONDESCRIPT MIDDLE-EASTERN LOCATION. DRAKE throws SIR FRANCIS' JOURNAL onto the table.
ELENA: Did you find anything in the journal?
DRAKE: Nothing. I figured since Sully was kidnapped yesterday, this ancient journal would tell us where he was hidden.
ELENA: That makes perfect sense.
DRAKE: Maybe… wait a minute. Here, on this page! Some kind of mythical king or ancient city… and here! The other thing! It's all connected! We've figured it out!
ELENA: I want to kiss you but I also don't because ultimately I'm afraid that, deep down, you're a man-child who is incapable of genuine emotional commitment, addicted only to the thrill of adventure. I simply don't have the energy to waste on loving you when I know I would only get hurt.
DRAKE: Gotta run!
DRAKE steals a MOTORBIKE and DRIVES VERY FAST into the VAGUELY ARABIC city streets. 17 TRUCKS, 5 MOTORBIKES and ONE LITERAL BATTLE TANK, LIKE FROM THE MILITARY packed with FACELESS GOONS set off in hot pursuit.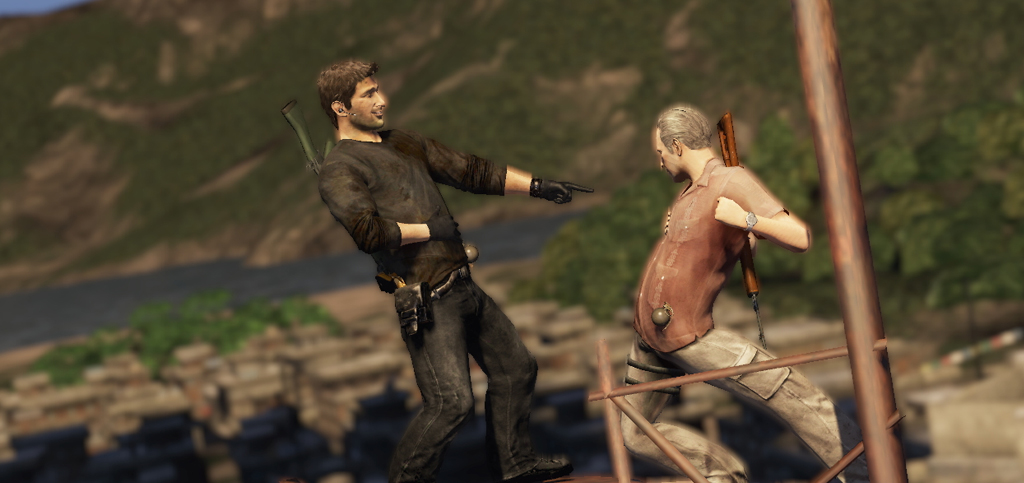 DRAKE enters the ANCIENT TOMB. All the TORCHES are ALREADY BURNING because FUCK YOU.
DRAKE: Woah. Sir Francis was right! Just like all the other times!
DRAKE spends SEVERAL HOURS exploring the ANCIENT TOMB. Right at the end of the tomb he finds a CLUE to SULLY's LOCATION, and also some TREASURE.
DRAKE: Time to rescue Sully! I hope no faceless goons have followed me into the tomb, otherwise I'll have to fight my way out!
FACELESS GOON (OFF SCREEN): In here! He's in the ancient tomb! We followed him in! Let's murder him, with our guns!
DRAKE: Fuck!!!
***
DRAKE finds SULLY tied to a CHAIR in a WAREHOUSE OR SOMETHING located in a VAGUELY MEDITERRANEAN CITY. He is MYSTERIOUSLY ALONE.
DRAKE: Sully! I found you!
SULLY: Nate? Nate, is that you?
DRAKE: I'm here to rescue you!
SULLY: I'm glad to see you, kid! I'm pretty old after all and every moment is an inch closer to death! Haha!
DRAKE frees SULLY. They have a TENDER MOMENT but NOT TOO TENDER because DRAKE is UNCOMFORTABLE ADMITTING WEAKNESS. Shortly, the NOT TOO TENDER MOMENT is broken up by GUNFIRE as FACELESS GOONS pour into the warehouse.
BIG BAD EVIL GUY: I knew you'd come for your friend Sully! And thank you for bringing me the item you found in the ancient tomb!
DRAKE: Oh no! Oh no nonononono. Ohhhhh no. This is bad. It's bad and I'm in it, which is doubly bad. Oh no no no. I HATE bad things!
BIG BAD EVIL GUY: Hand it over Drake! Or we'll fill your bodies… with BULLETS!
DRAKE: Oh yeah? Well, I bet you didn't count on the inevitable… SUDDEN APPEARANCE OF MONSTERS!
BIG BAD EVIL GUY: Shit!!! I didn't!!!
MONSTERS SUDDENLY APPEAR. DRAKE and SULLY flee and the MONSTERS eat many of the FACELESS GOONS, but not the BIG BAD EVIL GUY, who is clearly seen to GET THE FUCK OUTTA THERE.
***
Later, DRAKE and SULLY are exploring THE FINAL TOMB that will SOLVE THE MYSTERY.
DRAKE: I can't believe we keep finding new pages in Sir Francis' journal that cover all these things!
SULLY: Let's get a move on before I get any older!
DRAKE: Right! Ha ha!
Ahead of the pair we see a COMPLICATED ANCIENT MECHANISM that UNREASONABLY STILL WORKS but, clearly, can only be operated by TWO PEOPLE.
SULLY: Good thing I'm here!
DRAKE: Yeah!
They activate the mechanism together with SOME DIFFICULTY, because one of the switches is only accessible to somebody with INCREDIBLE UPPER BODY STRENGTH due to a SURPRISINGLY STABLE AND CLIMBABLE SERIES OF RUINS.
DRAKE: We did it, Sully! We opened the final tomb!
MONSTERS come POURING OUT.
DRAKE: Oh, come on!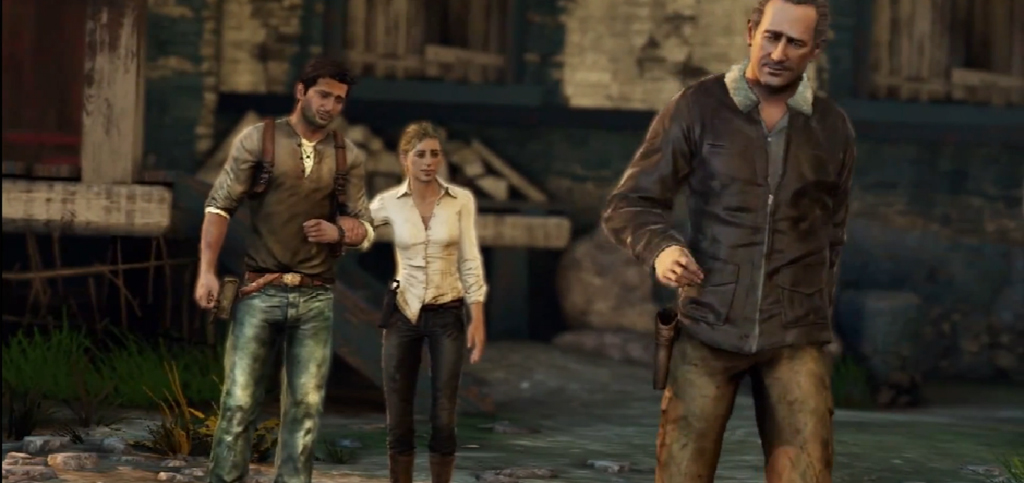 The MONSTERS have DRAKE and either a wounded SULLY or ELENA (or possibly BOTH) trapped with the BIG BAD EVIL GUY right at the end of the FINAL TOMB.
BIG BAD EVIL GUY: What do you value more… WHICHEVER FRIEND I AM HOLDING HOSTAGE, or the SOLUTION TO THE MYSTERY? You need to choose!
DRAKE: Shit!
Suddenly, without warning, a massive EARTHQUAKE tears the area in two. DRAKE uses this opportunity to ATTACK the BIG BAD EVIL GUY with his FISTS in a THUGGISH BRAWL.
BIG BAD EVIL GUY (DYING): All I ever wanted was… [MY MOTIVATIONS]
Another EARTHQUAKE rips through the area.
DRAKE: We gotta go!!! This whole place is coming down!
The GOOD GUYS leave as THE WHOLE PLACE STARTS COMING DOWN. After a CHALLENGING SERIES OF OBSTACLES, they are finally at a SAFE DISTANCE to watch the final tomb EXPLODE, burying THOUSANDS OF YEARS OF PRICELESS HISTORY FOREVER.
***
LATER, DRAKE, SULLY and ELENA are at a NON-DESCRIPT URBAN AREA.
SULLY (LIGHTING CIGAR): Well, I'd best be off! A scorpion bit my dick back in the tomb and I need to go to hospital urgently. Ha ha! See you around, kids!
SULLY DRIVES AWAY for URGENT MEDICAL TREATMENT. DRAKE stares after him THOUGHTFULLY.
DRAKE: He's just so old, you know?
ELENA moves towards DRAKE and places her hand VAGUELY on his shoulder.
DRAKE: Elena, I–
Suddenly, without warning a MASSIVE EARTHQUAKE shakes the area, trapping Elena on the other side of a SCARY CHASM as NEW AND DIFFERENT GOONS pull up in TRUCKS.
ELENA: Seriously?
DRAKE: Nice! I mean, uh, hang on! I'm coming for you!
ROLL CREDITS.