Tony Abbott Urges Local Mario Kart Tournament To Ban Rainbow Road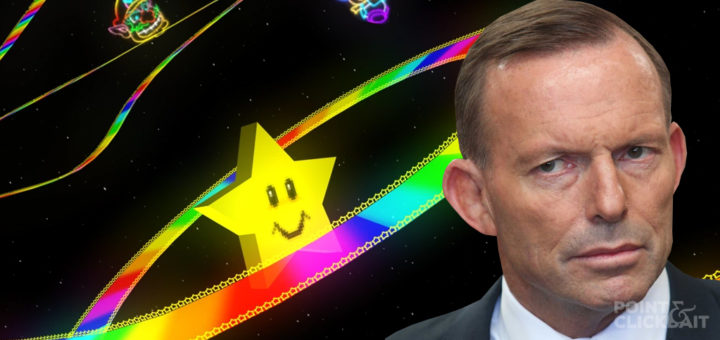 Australian conservative politician Tony Abbott has called on the organisers of a Mario Kart tournament at a local anime convention to remove the "politically charged" Rainbow Road track from the lineup.
Describing the track as "radical sex education for the unwary motorist", Abbott urged the convention to stick to "more traditional, less political tracks like Bowser's Castle or Moo Moo Farm."
"I think when Australians go to a Mario Kart tournament, the last thing they want to see is someone shoving politics down their throat like that," explained Abbott. "Politics and Mario Kart just don't mix."
"For children to be racing on Rainbow Road, with its long shimmering ribbon of homosexual propaganda floating in the darkness of space… to me, that sends a dangerous message. I'm calling on the organisers to think of the children and ban this unnecessarily divisive homoerotic display from their event."
"I think it's irresponsible of the organisers of Anime BLAST! 2017 to be doing this. Very irresponsible."
However, the Mario Kart tournament organisers are standing by their decision to race on the iconic pro-LGBT track.
"Mario Kart provides a welcoming environment for everyone, whether they are a sentient fungus or a ghost," explained the convention's organiser.