Local Gamer Boycotts Himself After Realising She Can Set Their Own Pronouns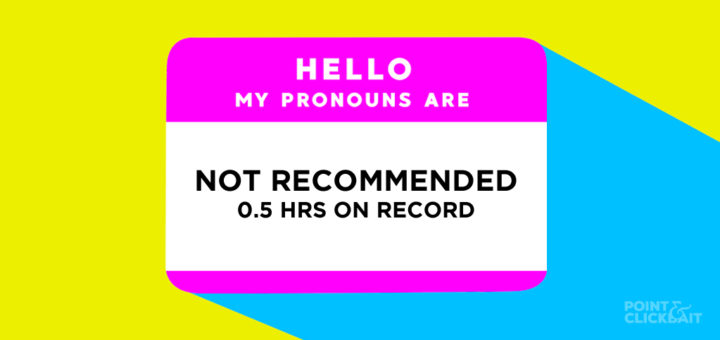 Local gamer Jamie Murps has reluctantly called for a boycott of himself, saying in a statement that after discovering he can change his own pronouns at will, he has now become "too political".
In her statement, Murps slammed herself for "shoving her views down her own throat" and suggested that she missed the good old days "before she knew about any of this stuff."
Murps' current dilemma came about after they had just finished a self-described "epic rant" about the many flaws of a new indie release, which featured the ability for players to choose their own pronouns. Point & Clickbait understands they then attempted to illustrate the problem by saying "Like, what next, I can just change my own pronouns any time I want?"
"Shit," Murps concluded, as it became clear that no one was confused as to what they were referring to. "Fucking hell."
The boycott, now in its second day, has proved to be a mixed bag for Murps. Despite being "choked to death by my own virtue-signalling", the gamer now admits that he is enjoying the "possibilities on offer" and is looking forward to "optimising her gender for the most authentic performance."
"Just let me frame this in gamer terms while I work it out, for the love of god," they told us. "Just let me have this one."
Are you infuriated when pronouns do not specifically and directly describe the genitals of the folks you're addressing? Let us know about it in the comments!