E3 Organisers Confirm That We Can Go Out For Ice Cream Later If You Just Please Come To The Show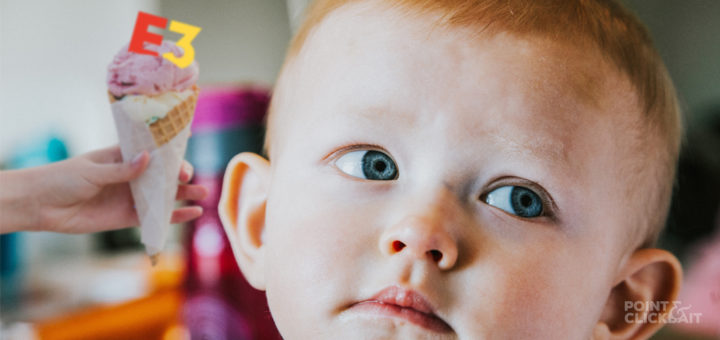 With more and more big name companies choosing to pull out of the annual E3 event, the organisers at the Entertainment Software Association have exclusively revealed to Point & Clickbait that anyone who comes to the show will get to go out for ice cream later, and maybe get to stay up a little bit past their bedtime if they can get through it without crying.
"E3 has been a gaming institution for years," explained ESA spokesperson Rueben Blonch. "Think of all the massive reveals that we've had there. Think of the iconic moments. All the marketing money spent. It's been fantastic."
"But what we're hearing from consumers now is that they have changing needs. They don't want the latest and greatest trailers and reveals – they want an ice cream, and they want it in a waffle cone with a drizzle of fudge on top, and they want it now. And it's time that we listened to that, and also time that we kept it down please, because people are starting to stare."
The rise in companies choosing to bypass the trade show entirely and hold their own presentations, or simply go digital in the case of Nintendo, has been "difficult", admitted Blonch. But he says that these obstacles can be easily overcome if you will just "stop embarrassing me" and "tell the nice lady what flavours you want".
In fact, according to the ESA, who firmly told Point & Clickbait that there was "nothing to worry about" and that "Sony had gone to live with your aunt in Perth", there was still plenty to look forward to. "Journalists are trading hot scoops for cold scoops. It's normal. Stop kicking the seat."
"Here's something that I bet you a lot of trade shows don't have," Blonch told us in a slightly manic and sweaty fashion. "Balloon animals! I bet you didn't expect colourful balloon animals at a world-class trade show for the fastest growing form of electronic entertainment which, and I bet you didn't know this, actually makes more money than Hollywood! Oh, you did know that? You really are such a smart little boy or girl or whatever."
"Look, you can't make everyone happy. Some days, you just have to get through it, and if no one throws a tantrum, well, that's just the cherry on top," he said, before turning to placate an excited vendor who misunderstood what "cherry on top" had been referring to.
"Besides," Blonch concluded, showing this reporter part of his thumb, squeezed between his middle and index fingers. "I, as you can see, have got your nose."