Increasingly Desperate Phil Spencer Finally Buys PlayStation 4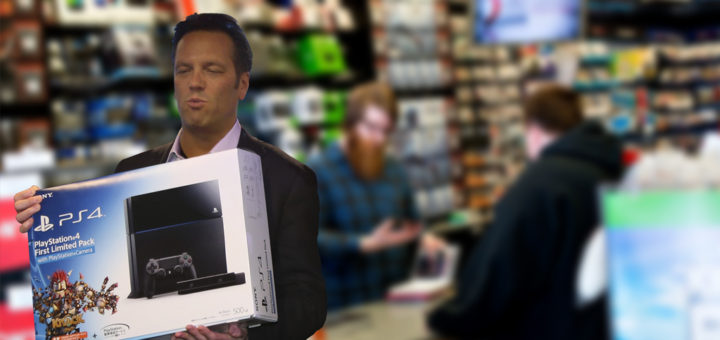 As pressure mounts to reveal more information about the much-anticipated 'Project Scorpio', a stressed and desperate Xbox boss Phil Spencer has been spotted purchasing a PlayStation 4 from a local GameStop.
Point & Clickbait understands that Spencer opted for the most expensive model, deliberately asking the confused employee for "the one with the most features", before hurriedly shoving the telltale blue box into the back of his car and driving away, his eyes darting to the rear view mirror every few seconds.
Spencer's longtime neighbour Stanley enjoyed only the most perfunctory nod and grunted 'hello' as the Microsoft executive rushed the bundle inside, locking the door behind him, drawing the blinds and turning off his phone. A clearly shaken Spencer immediately poured himself a stiff drink of the good whiskey he keeps in the office cabinet and sucked at his teeth, exhaling hard.
At the time of writing, Spencer was understood to have taken off his shoes, put on his 'Ideas Hat' — a ten-gallon cowboy hat with 'Innovation' stitched onto the brim in gold sequins — and settled into the living room with his notepad and pen, psyching himself up to eventually turn the PlayStation 4 console on.
"Who's an ideas man? You're an ideas man," he muttered over and over again. "You are. You're the ideas man."