Celebrated Indie Developer Celebrates Fourth Month In a Row Of Eating Discount Ramen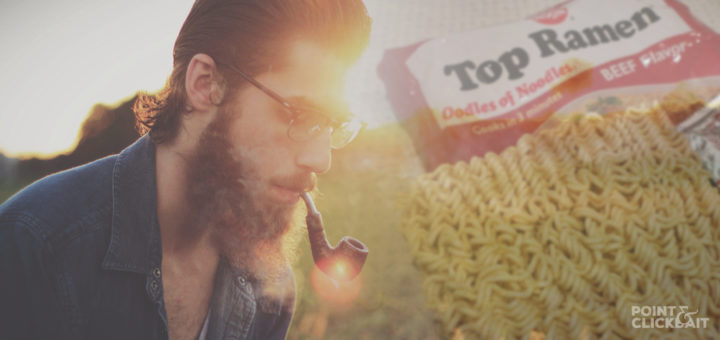 Independent developer Shannon James is enjoying another technically edible bowl of discount ramen today, safe in the knowledge that their latest title is a critical darling and will win at least 2-3 IGF awards.
The game, which features retro aesthetics, a heart-warming story and a deeply moving soundtrack, is currently at #4,510 on the App Store Sales charts and is on track to make precisely "one or two more" sales this week, claims Shannon.
"Everyone's loving it," explained Shannon, pausing to wrap a third blanket around themselves after the heat was shut off due to non-payment last week. "They can't get enough of it."
"Critics, I mean. Nobody is actually buying and playing it, oh god no. I wouldn't even know what to do if that happened, honestly."
Feedback from gamers suggests that many people are avoiding purchasing the game out of a desire not to hurt the feelings of the developer.
"I was going to purchase that Shannon dude's game, but.. everyone already loves it," explained gamer Kyle Franklin. "If I buy it and tell my friends about it, they might buy it as well… where will Shannon be then?"
"It doesn't seem fair on him, you know? Anyway, all of my mates are playing Fortnite so I paid for that instead."
However, there may be hope for people like Shannon. His difficult time in the indie spotlight may soon be coming to an end, with new reports suggesting that an even more independent developer, who lives in a wall cavity and eats only insulation batts, is about to release a new RPG programmed entirely using spare copper wiring, which tells the story of their childhood in rural America.
"There's only room for one indie darling in the App Store right now," commented Shannon as he struggled to make a threatening fist using his shaking, palsied muscles, weak from malnutrition. "I'm not going to take this lying down, unless of course I pass out."
"Wake me for the next IGF awards, please," he concluded.
**
This article brought to you by Rowan Arte, who backed the Point & Clickbait 'Best of 2016' Kickstarter at the 'Editor For A Day' level.