Call of Duty Marketing Team Running Out Of Ways To Avoid Admitting War Might Not Be Great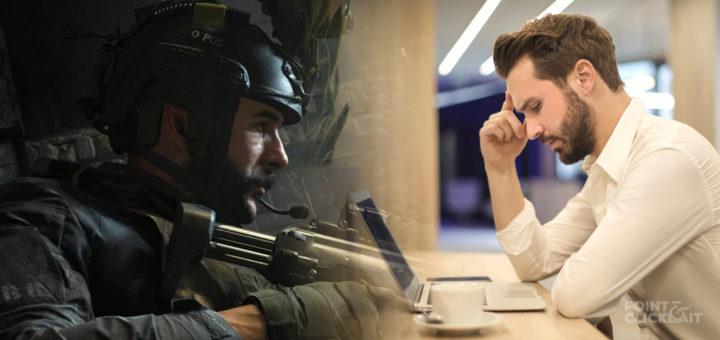 With the launch of the new Call of Duty fast approaching, a hidden struggle being waged away from the public eye has today been revealed. The Activision marketing team is going public with their concerns that if they run out of ways to say phrases such as "shades of grey", they might be forced to admit that war is generally considered to be kind of bad.
"At first it was so easy," explained Lence Teddler from Activision marketing. "We didn't even have to structure coherent sentences. We could just say 'grey area' and 'difficult decisions' over and over again, and games journalists would just nod approvingly as if we were saying something meaningful or useful."
Unfortunately, what Teddler referred to as "the increasingly obvious collapse of the social order" meant that it was harder than ever to avoid the fact that "war isn't super fun, and may even be, by certain metrics, not the best."
"Obviously we have to sell games to as many people in the world as possible, but that means trying to sell games to people in places which have been ravaged by decades of, you know, war," Teddler explained, gesturing in a frustrated manner. "You can see how that would inconvenience us."
"For some reason these people who have spent years living through war insist on trying to tell other people about war and how bad it is, which is quite rude in my opinion," he concluded.
Teddler's concerns have been echoed by games journalists, who say they are being forced to confront a "disturbing new trend" where readers are now begging them to examine the moral and ethical implications of the games they review.
"The days of just nodding approvingly when a marketing person says 'grey area' are long gone," explained freelance journalist Elmer Blent. "After hearing from a few of my friends about how their parents had to flee their home countries because of this 'war' thing, I realised I had to stop nodding and start, you know, shaking my head or maybe even asking the question again."
"I love unloading my shotgun into the face of a generically Arabian 'insurgent' as much as the next liberal, but sometimes we have to ask ourselves what it all really means, you know?" For his part, Blent has promised to give the game a 9 instead of a 10 if he does not feel that his concerns are being addressed.
Gamers are being asked to pre-order a "Marketing Team Support Package" for an additional $14.99 with this year's Call of Duty installment, with 70% of the profits going towards helping war marketing staff transition to a new and more sustainable career with the US Military recruitment arm.
"The important thing," Teddler says, "is that we pay tribute to and honour the lives and sacrifices of our stockholders."