Doing Their Part: This Studio Has Changed The Colour Of Its Logo To Honour Employees Who Died Of Coronavirus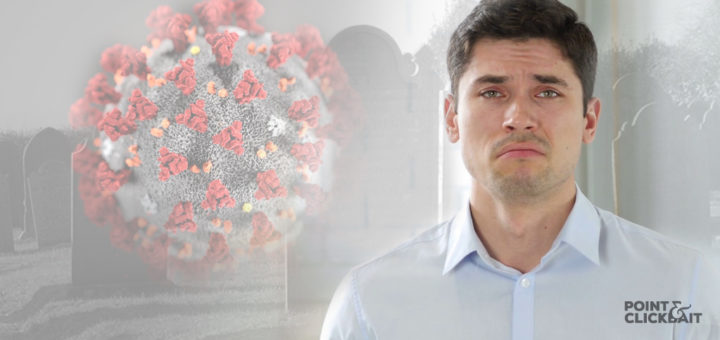 As the death toll continues to mount from the COVID-19 coronavirus outbreak in the United States, one game development studio has drawn a line in the sand and said "look at us".
In a move that has left onlookers speechless for presumably good reasons, ValueBlast Games have announced that they will be changing the colour of their logo from a "frivolous" blue to a "sombre" black, to honor the death toll within the company, which is at "seven and counting".
ValueBlast, which has previously drawn criticism over what prudishly critical critics call the "appalling and repeated sexism" of its iconic franchise SexBlade, has wisely dumped 'virus testing' in favour of 'brand recognition focus testing' after identifying COVID-19 as "a serious bummer".
Speaking to Point & Clickbait via video link from his isolated 27-room mansion with independent power and water supply on a 500-acre plot in rural New Zealand, ValueBlast CEO Ched 'The Solution' Chesterblent III told us that times were "difficult and uncertain" right now.
"The difficulty and uncertainty I am referring to is, of course, the fact that our brand recognition score had dropped slightly due to COVID-19," the tech leader and humanitarian told us, compassionately.
"Our desk-located in-office work-partners were telling us that we were 'not doing enough' to slow the spread of the virus. As CEO I found this deeply concerning, particularly because I had explicitly told my assistant not to pass on any of their feedback."
"Anyway, somehow word got out – still checking the logs to see which work-partner broke the no-leaving-desk policy – and the reputation began to tank. That's when the seriousness of this whole coronavirus thing really began to hit me."
"Do I wish that fewer people had died?," Chesterblent said, before moving on to discuss SexBlade XXX's upcoming "Morning After" DLC pack without really answering the question.
Rint Zonski, editor-in-chief at popular gaming outlet Your Press Releases Reprinted Today, told Point & Clickbait that the move was "a deeply touching tribute to the many people who have lost their lives" and that it "demonstrated ValueBlast Games™ Inc., LLC [VBG] commitment to moving forward together in the spirit of community."
"FOR IMMEDIATE RELEASE," he added, handing us an "Editor's Choice" award.
"I genuinely have no idea how to respond to this," explained ValueBlast Games desk-located in-office work-partner tech artist Goergei Feng in what we presume was adoration, before leaning away to make a series of disloyally wet coughs. "Again, I literally do not know what to say."