Geoff Keighley Eagerly Anticipates First Visitor To His E3 Booth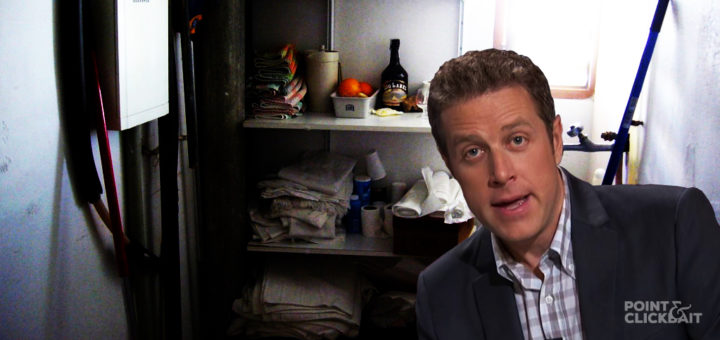 A fresh-faced and smile-adjacent Geoff Keighley is today sitting behind his desk at his Game Awards E3 booth, where he is ready and waiting to greet the first visitor, who he is quite certain will arrive "any minute now".
Keighley's booth, which is located in what observers are calling "a broom closet" and consists almost entirely of a large flatscreen TV showing a looping video which is itself a CGI render of the booth, represents what the veteran host and gaming video personality calls "an incredible first look" at this year's Game Awards.
"Gamers absolutely love The Game Awards," Keighley explained as he straightened his posture, practiced making the smile with his mouth, and kept his eyes laser-focused on the still mysteriously empty doorway to his booth.
"The Game Awards is their first chance to look at the first part of a game for the first time," he continued, briefly popping his head out of the booth door to check if attendees were queuing correctly, or at all. "Many of those games are announced for the first time here at E3, so it just made sense for us to have a presence here."
"With this booth, what we're offering is a first glimpse at what that first look will look like, which I think is just incredibly exciting, and I'm thrilled to announce it, here today, at the Game Awards booth, this year, which is where we are tonight."
Attendees who visit the Game Awards booth can also experience what Keighley says is a "powerful and deeply moving" napkin, on which he has scrawled the names of several famous game developers who may or may not be present at this year's awards. When pressed for more details, Keighley told us that he had "something special" planned for the show this year, and attempted to surreptitiously eat the napkin.
Although the organisers of E3 declined to issue a statement, security staff were spotted later barricading up the door to the broom closet for "unrelated reasons".