Report Suggests Screaming Man In E3 Conference Audience Equally Insufferable In Real Life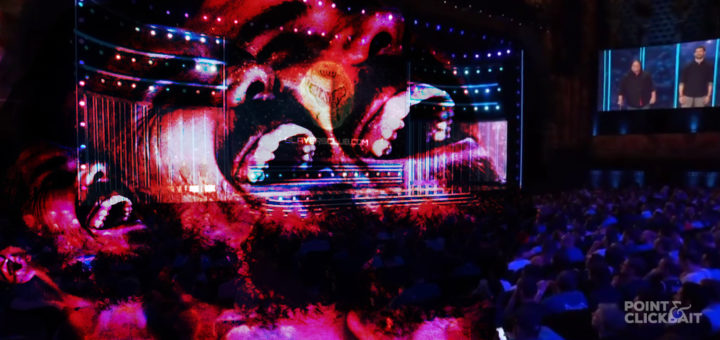 Lunk Layton turned heads across the opening days of E3 with his ear-shattering roars, cheers and screams during the pre-show conferences held by Microsoft, Bethesda, Ubisoft and Square-Enix. While witnesses on the ground reported Layton's enthusiasm as both "total" and "sweaty", speculating that this might be the time of year he's most likely to cut loose, Point & Clickbait can exclusively reveal that Lunk Layton actually just sucks.
Layton, who was heard screaming "WHERE'S MASTER CHIEF" during Xbox's indie showcase, has his origins in the town of Stowe, Vermont, where he has left his mark on the residents there. "Oh, yeah, I remember being in the cinema once when I was a kid, watching Finding Nemo," resident Sarah Burke told us.
"When Bruce the shark appeared on screen, this guy just started whooping and hollering. He yelled over every line. I couldn't hear anything. I had to ask for a refund. He must have been in his 30's even then."
Layton, who infamously hollered "HAVE MY BABIES" at Shinji Mikami over and over again during Bethesda's presentation, was apparently recently fired from his local Walgreens for "cheering and screaming" whenever he saw a customer purchase either condoms or tampons, manager Duck Clements told us. "I've never seen a child sweat and carry on so much", Clements – a man several years Layton's junior – told us.
Incredibly, we could not find anyone with anything positive to say. "You never forget your child's first words", Lunk's mother Patrica explained, her hands shaking as she raised a cigarette to her chapped lips. "But when your bright-eyed, loud, sweaty baby opens his mouth at 13 months and distinctly yells 'game on'….well. There are some things I wish I could forget. There are decisions I would like to be able to undo."
"No, I'm not surprised that he kept screaming about the Rabbids during the Ubisoft presentation until security had to drag him out," she told us. "That boy claps and stamps his feet whenever he flushes the toilet."
When we reached out to Layton himself to ask him to defend his actions, he responded "WOOOOOO! YEAH!! TAKE MY MONEY!"