Science Win! Disney's New 'Easy-Imprint' Brands Absorb Into Your Child 16% Faster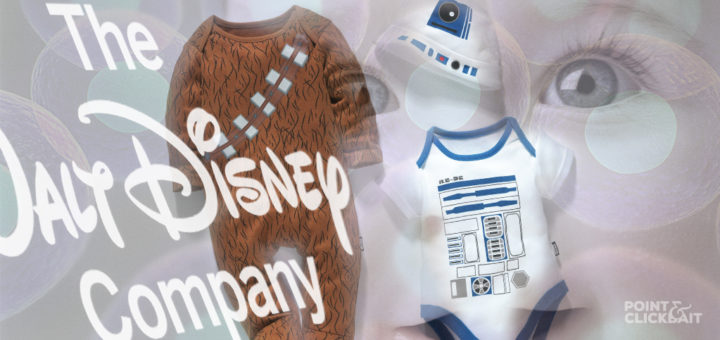 The leading scientainment specialists at DisneyⓇ have broken new ground again, announcing an incredible new 'Easy-Imprint™ technology which will make it even easier to "Raise 'Em Right"!
Gamer parents know it can be a struggle to make sure their child grows up to be a smaller version of themselves, who understands the importance of tithing a percentage of their monthly income to The DisneyⓇ Corporation, Inc, especially with restrictive, outdated laws that prevent parents from tattooing their children!
What parent wants to take their child out in public and watch the other grown adults roll their eyes when they notice that little Loki is wearing a simple coloured t-shirt with no logo on it, and can't even name their favourite DisneyⓇ Princess™? Yikes!
Thankfully, the new DisneyⓇ Easy-Imprint™ brands will make it even easier to "unlock that achievement" of being told "that's parenting done right!" by another fellow geek – or even end up with a photo at the top of your favourite "subreddit"!
Every parent knows there are some things you just can't control about your child's life. But thanks to Easy-Imprint™ technology, you can always ensure that they'll be capable of an eerily precise rendition of Hakuna Matata before they've even learned to say that they love you!
How do they do it? Each DisneyⓇ Easy-Imprint™ brand contains powerful proprietary Emotionators™, specially designed to permeate your child's skin and get right into the bloodstream, where they will lodge in the brain and cause Love™ for the DisneyⓇ brands that matter an incredible 16 percent faster than before!
It gets better! These amazing pieces of Art™ are shipped in uniquely porous packaging, which allows the Emotionators™ to waft out before skin contact has even been made. Your little bundle of vicarious dreams won't be able to stop themselves from tearing open the packet and putting on the shirt/watching the movie/reading the comic/playing the game/doing a sport [delete as applicable for your audience]. You'll never again have to worry about your child developing their own interests independently!
The new DisneyⓇ Easy-Imprint™ brands are uniquely adapted for the modern progressive family, and will be available in all three genders: Star WarsⓇ, MarvelⓇ, and Princess™. Look for them on shelves this DisneyⓇ Christmas!
SHARE if you're the sort of good parent who will be heading out to the store immediately to grab an Easy-Imprint™ brand this financial year!